2013 begins a new year, and I want to use this blog as a way to document my own journey toward leading a more balanced life. In each and every aspect of my life, I find myself confronted with the need for balance.
Of course, most of us want balance. I have always been a tense person and overly serious. Balance for me will come with prioritizing and moving forward with intention but allowing for spontaneity and flexibility. My mom makes fun of me for making to-do-lists for every aspect of my life, but putting things down and crossing them off orders my mind and soothes the chaos that is my brain.
The purpose of this blog will be to document my work-in-progress toward a healthier, more joyful, and balanced life. The last few weeks I have been practicing hot yoga much more and putting much more thought into what I eat. I have hypothyroid and gained about 12 lbs a year ago. I am a small person, so I can sometimes gain easily but find it hard to lose any weight I gain. Even though I have been exercising and eating much better, my weight has stayed at the 12 pounds more than what I prefer mark. I know I am gaining some muscle, but I really do need to make more effort to fit in more cardio to help burn more fat. I am trying to get motivated to take my measurements so I can see the progress as I continue to work out more.
To jump start my metabolism, I really need to be better about eating breakfast. I like having smoothies, but I always get up late and run out of time to make it even though it only takes like 3 minutes. Most mornings I grab one of these Nugo chocolate pretzel protein bars for breakfast. They are salty and sweet and amazing. It satisfies the need for dessert, but also the munchies at the same time.
For lunch, I had my
Easy Lunchbox
container with lemon pepper pasta with turkey sausage, apples, and trail mix with a Vitamin Water Zero.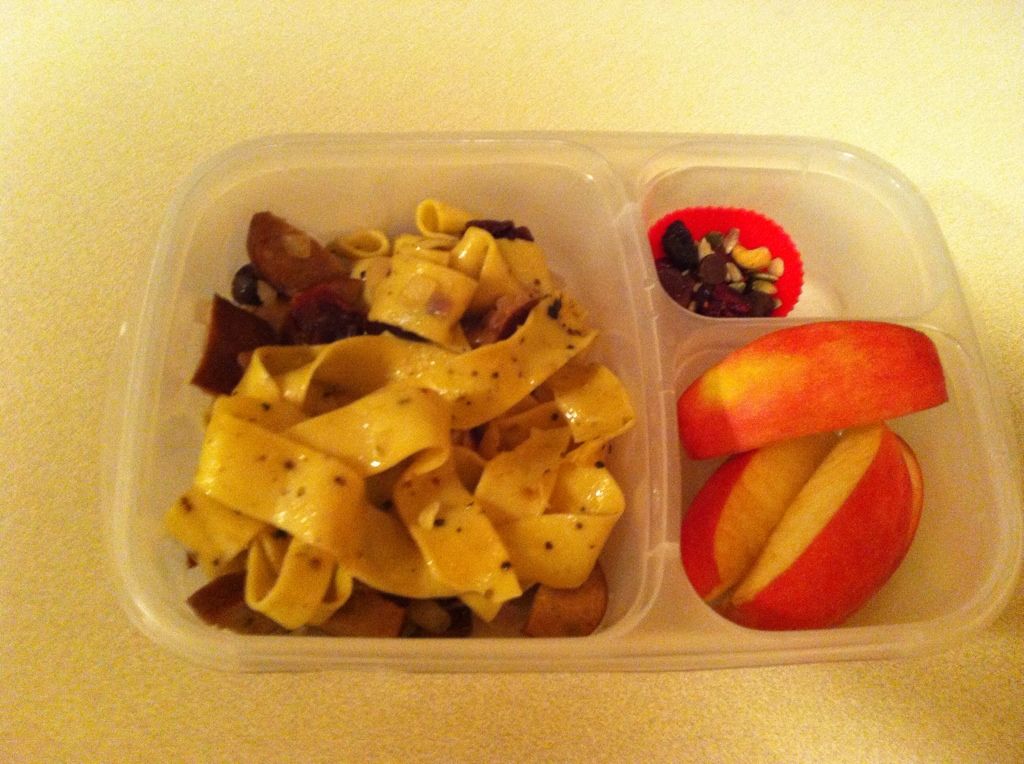 For a snack I had celery, carrots, and pretzels with laughing cow cheese. Packing the little container of snacks has worked out perfect because I often eat right before I leave work or on my way home so I do not go through Sonic and get a corn dog or grilled cheese. We eat lunch at 11, so by 4 or 5 I am starving. My ex-work spouse can tell you I am the Queen of the drive-thru grilled cheese with a Root beer. I am still working on giving up my root beer. Some weeks I do, but it is my favorite vice.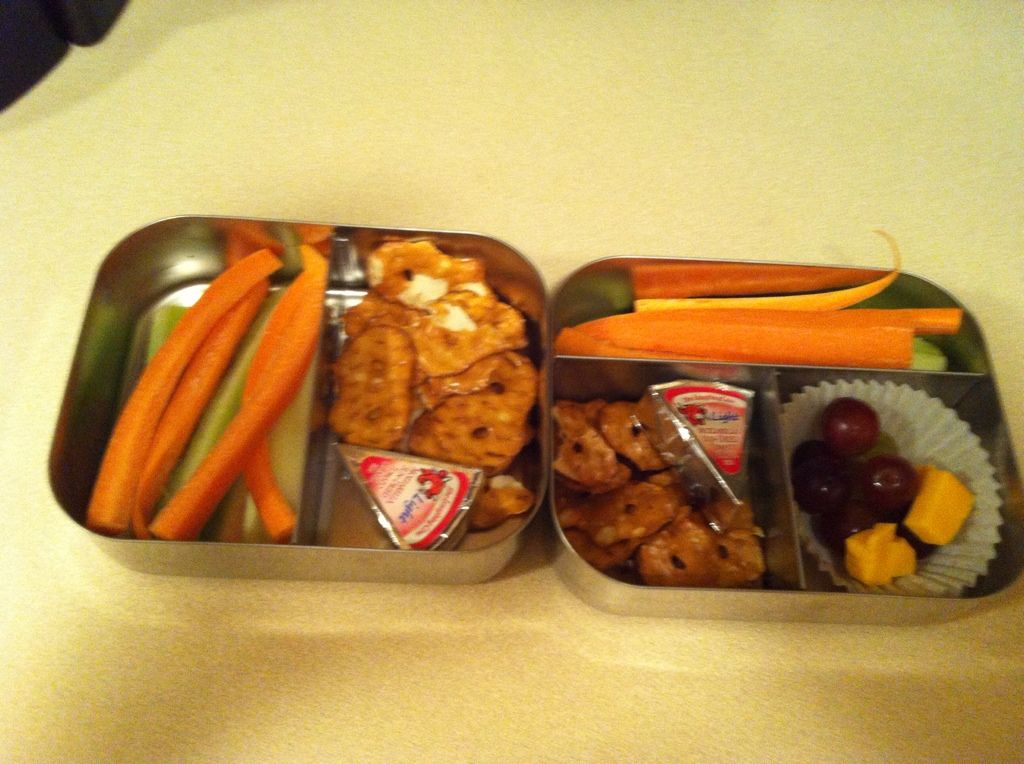 After work, I did an hour of hot yoga and then came home and vacuumed. (I have 4 pets. The vacuum and I are old friends.)
On Sundays I try to cook a couple of easy things like crockpot stuff, one dish meals, or casseroles that we can heat up throughout the week. I have tried freezer cooking and meal planning. Neither work for me. I am an emotional eater, so planning too far out is a waste for me. I can plan several things to cook, but I never want to cook during the week. Thus, easy leftovers work better for me. This week I made the pasta and an easy black bean/rice combo.
I mix up cut-up chicken, brown rice, black beans, corn, red onion, bell pepper, and salsa in a sauce pot. It tastes great reheated by itself.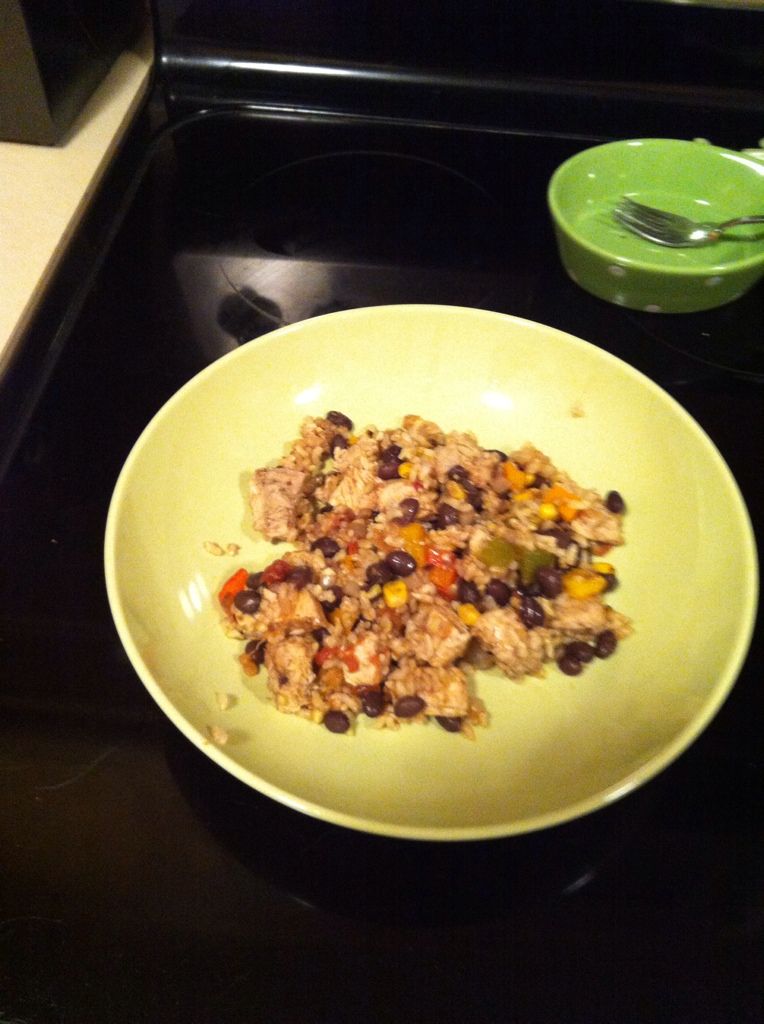 Tonight, I heated it up and then added lettuce, olives, a little cheese, and a Chipotle Ranch to make an easy Southwest salad.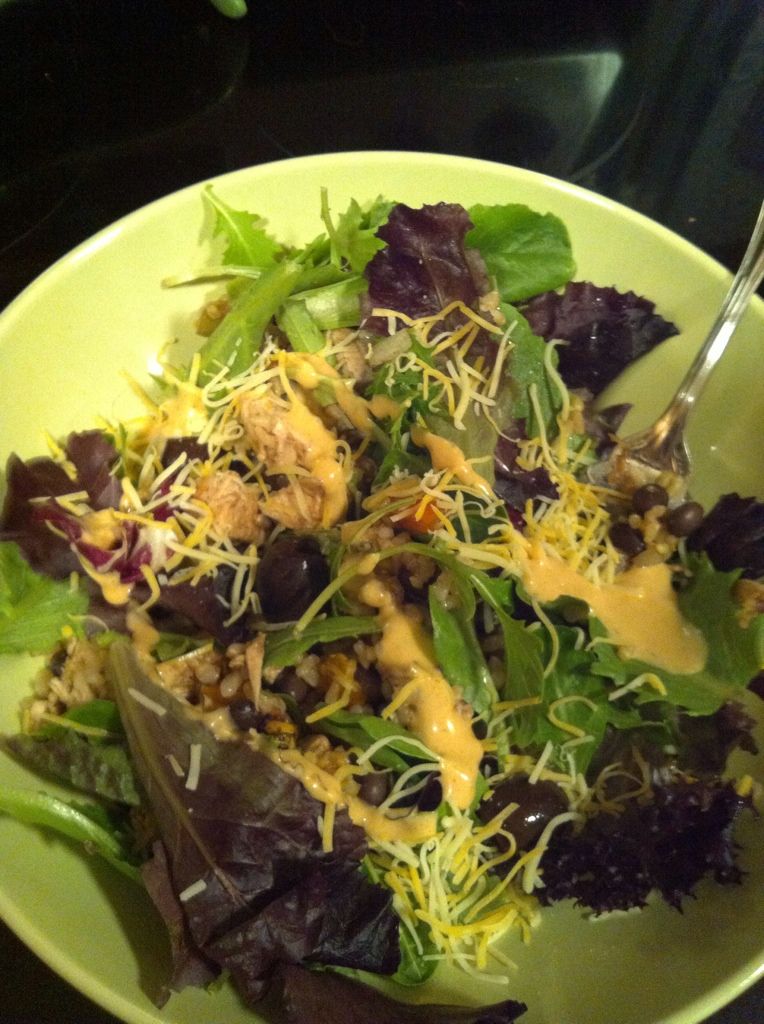 My husband prefers to put it in a big tortilla and make a burrito. It also tastes good in pita bread. So one easy chicken/beans/rice mix can quickly be turned into a couple different meals.
Now, I am off to pack my work-out clothes for tomorrow and my lunch. Maybe I will grade a little? Or I might just crawl in bed. Good night y'all!