My Workouts
This past weekend, I was able to start working out again after not working out for a week and a half due to a cold. Not working out for over a week had my stress out of control. It is amazing what a difference a good workout makes. On Thursday, I did a 30 minute pilates class and my 1 hour bootcamp class. On Friday, I did not have a muscle that did not hurt.
Saturday morning at 8am I went to bootcamp. We did lots of abs, which was torture because my abs were still wore from my 2 workouts on Thursday. After bootcamp, I went to a Holy Yoga class. It was awesome! I had not been to a Holy Yoga class in awhile. I love the experience of physical surrender while praising and worshipping. It was a cold rainy day on Saturday, so I stopped at Panera on my way home from yoga and got soup. I came home and took a 4 hour nap on the couch. That night I went to dinner with my sister-in-law, Emily. We had Greek food at
Ziziki's
for dinner, and went across the parking lot to
Breadwinners
for pumpkin cheesecake for dessert.
Sunday morning I went to hot yoga before church. I love letting all the tension and stress go before going to church. Right now at church
Dr. Jeffress
is doing a series on Revelation. After church, I pretty much worked on lesson plans and did laundry.
My Dinners this Week
Today, I planned what I am going to eat this week and went grocery shopping. I am planning on cooking the following items this week. When I cook, I usually cook 2-3 meals at once so I only have to cook a couple times a week. We just reheat stuff throughout the week.
Turkey Sloppy Joes
We had this tonight with carrots and celery. I got the recipe from this week's
Six Sister's Weekly Menu.
Turkey Chili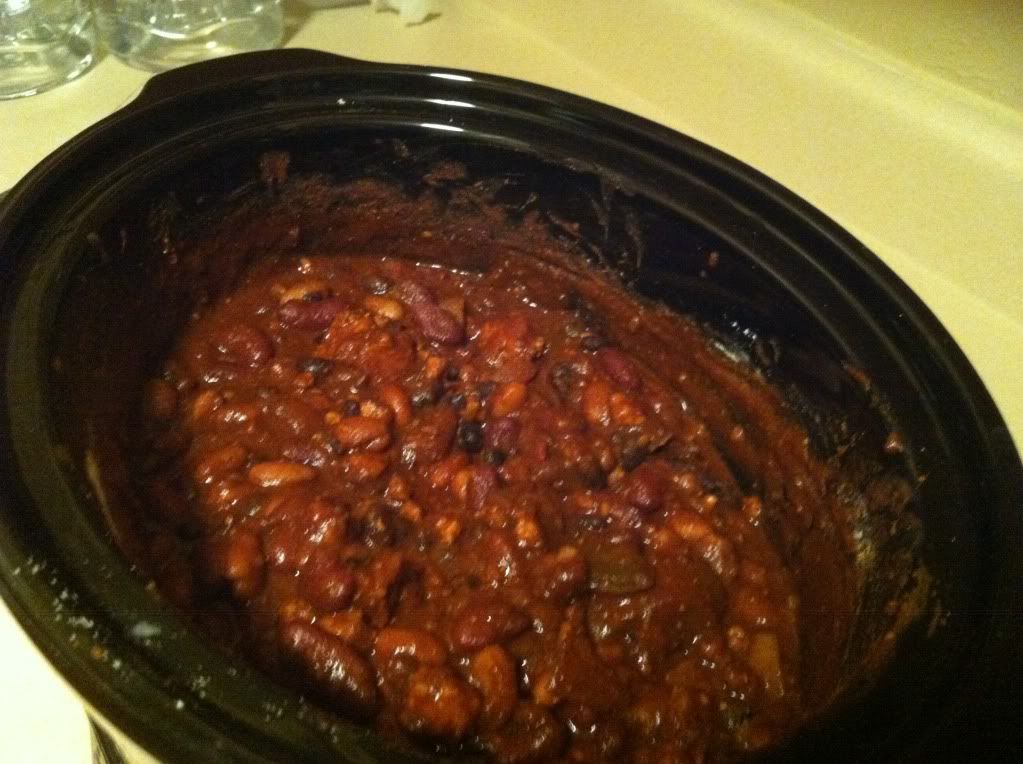 I just make chili in the crockpot with cooked ground turkey, 3 Alarm chili seasoning, 1 can tomato sauce, 1 can pinto beans, 1 can black beans, 1 can kidney beans, bell pepper and onion. I cook it on low for 2 hours.
Chicken and Spinach Lemon Pasta
Emily gave me this recipe and said it was good. It is from
Rachel Schultsz's blog
. I probably will use a different pasta than Angelhair though because I have a bunch of pasta to use up.
Breakfast Tacos
I have been making frittata a lot lately, so I am going to change it up this week and make breakfast tacos with eggs, turkey sausage, and cheese. I recently discovered
Jimmy Dean's Turkey Sausage crumbles
. They are fully cooked and already crumbled. You just sprinkle them in whatever you are making. It is so easy!
Lunches
I really love packing Bento lunches for myself. It helps me eat more balanced having it all in one box. I am a slow eater, so I seem to actually eat more if it is all in one container versus several. I probably will take a breakfast taco in my lunch one day and some leftover pasta another day.
For tomorrow I packed a homemade lunchable with turkey, salami, cheddar, crackers, carrots, celery, and an orange.